tl;dv — From 0 to 550+ monthly signups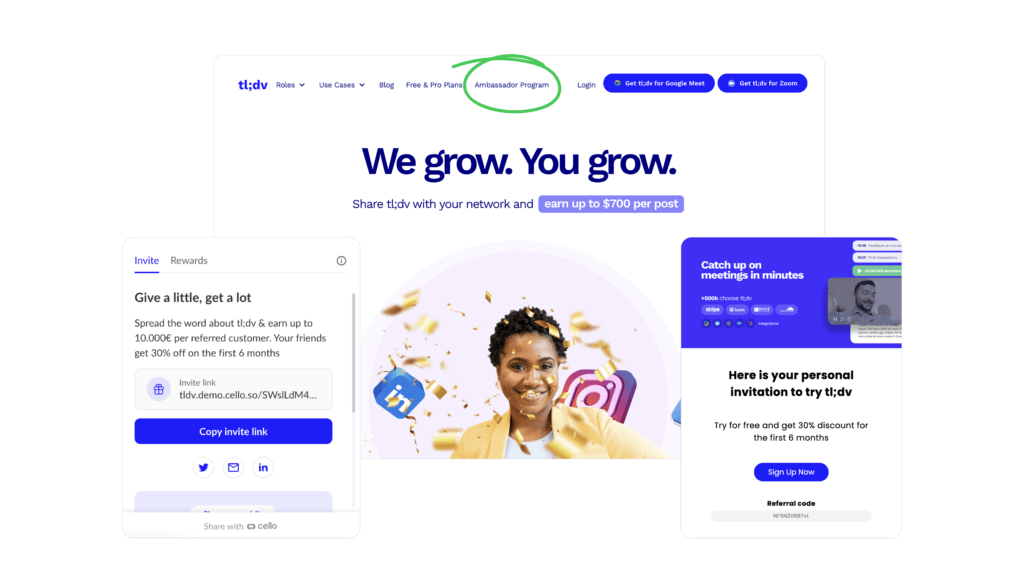 About tl;dv
Germany-based tl;dv was founded in 2020 to allow people to join fewer & host leaner live meetings. The meeting recording software for remote & hybrid teams came at just the right time and now with Cello, they are rewarding their satisfied customers for their word of mouth.

Goal
Being able to amplify the voice of customers is key to spreading the word about a game-changing product. The more quickly a company can access this key marketing network, the faster they can build awareness.
Solution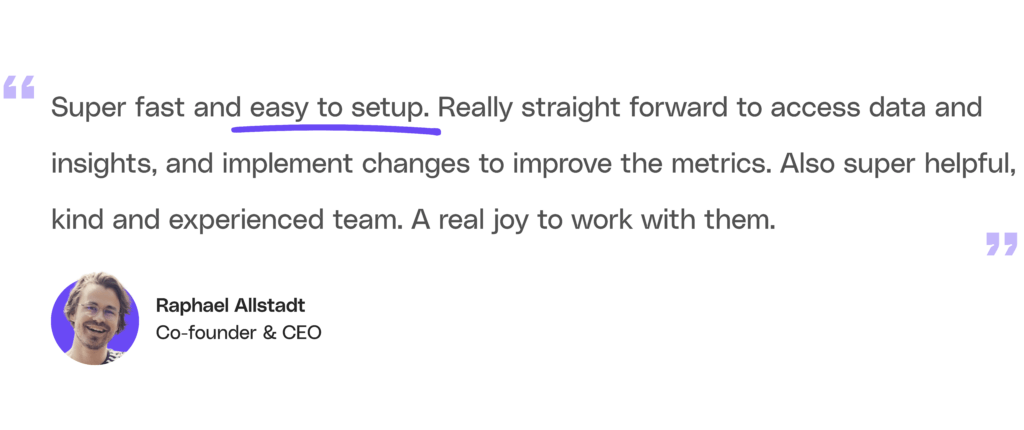 What makes Cello so easy to set up?
Cello stands out as an effortless solution for implementing a referral program due to its user-friendly setup process and seamless integration capabilities. Here's why setting up Cello is a breeze:
Preconfigured referral experience
Cello provided a preconfigured referral experience that allowed for easy fine-tuning of the referral program quickly to tl;dv's specific needs.
Clear documentation
The comprehensive documentation guides users through the setup process step by step. The clear instructions, tutorials, and preconfigured content made it easy to set up the program in hours.
Simple Integration with Stripe webhook
Cello seamlessly integrates with tl;dv's Stripe setup by leveraging a webhook. The webhook is set live with a few clicks. This integration streamlines the reward system by automating the attribution and success-based payouts.
Seamless UX within the product
Tweak a few parameters, and it is done. With its lightweight design, Cello helped create a consistent end-user experience across the user journey, making it appear as a natural extension rather than an add-on. This ensures a frictionless user journey to maximize user engagement.
How did tl;dv achieve 550+ monthly referral-based signups?
Discoverability
In-product integration allows users to become referrers from within the very tool they want to recommend. After someone views their referral link or signs up, notifications are triggered to the referrer in order to encourage continued referral of the product.
Strong messaging and go-to-market
tl;dv used Cello's go-to-market playbook to maximize transparency of their referral program through a multi-channel approach.
Dedicated landing page (here) to provide users with a step-by-step description of the program, an FAQ, and example messages other referrers have used to encourage their network to try tl;dv
Social media posts to connect with affiliates who are not among tl;dv's user base and provide trust in the program. The act of making the public post by tl;dv gives the message importance & priority
Promotional emails to reach users who might not use the product regularly. tl;dv includes a gripping headline in order to encourage the users to learn more about the program
User interviews to establish direction for continuous improvement. Asking users how they feel about the program allows for optimization via reward iteration
Lifecycle messaging to nudge users at the moment when they are most primed for referring new users. By incorporating the program into regular communication channels (ex. monthly newsletters), tl;dv establishes a regular reminder cadence for the program