tl;dv experiences strong top-funnel growth with Cello

"Referral programs are typically difficult and costly to set up. With Cello, we were able to quickly implement and set up a program to test this new channel and its potential to increase new user acquisition."
Germany-based tl;dv is one of the fastest-growing AI-powered meeting recorders. They wanted to capitalize on the buzz around generative AI by amplifying the voice of users & influencers to add a high-performing growth channel that could multiply its userbase over time.

Their main challenge was scarce development capacity for the growth initiative due to their ruthless prioritization on AI-powered features for the core product.
Cello provided a preconfigured referral experience that was implemented in two days and allowed for easy fine-tuning to tl;dv's specific needs.
How did they succeed?
The main success factor in this referral program was the discoverability that tl;dv achieved. The in-product integration with Cello's preconfigured referral experience allows users to become referrers from within the very tool they want to recommend, making the experience straightforward and hassle-free. After someone views their referral link or signs up, notifications are triggered to the referrer in order to encourage continued referral of the product.
Outside of the product, tl;dv created a multi-channel strategy to ensure a transparent and fast launch of their referral program. They created a strong go-to-market strategy that included a dedicated marketing page (here) directly accessible from their website to provide users with a step-by-step description of the program.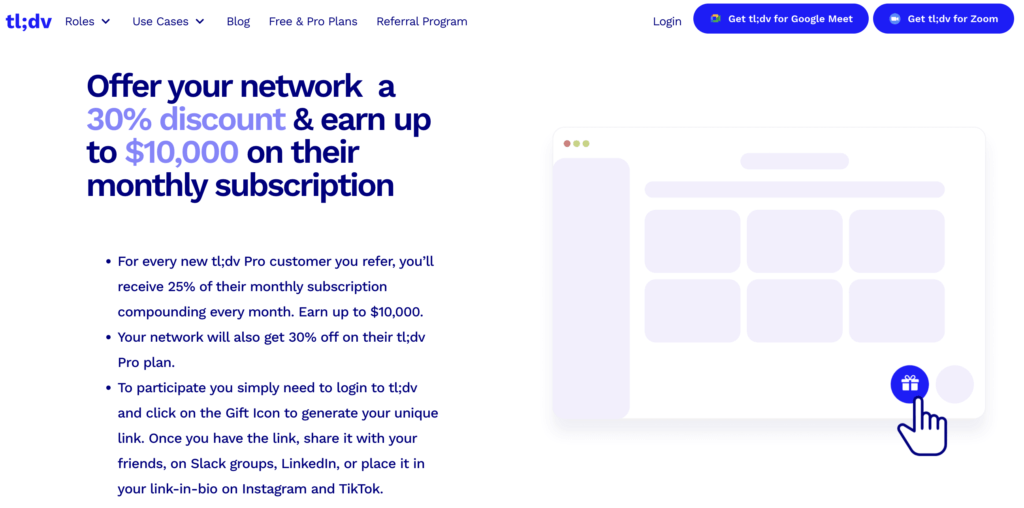 tl;dv also created lifecycle messaging to nudge users at the moment when they are most primed for referring, published both social media posts and promotional emails in order to connect with affiliates, and conducted user interviews to establish the direction for continued improvement.
The result?
Leveraging Cello's in-product integration with strong messaging and go-to-market efforts, tl;dv achieved an average of 500+ monthly referral-based signups.