B2B Referral Program KPIs (2023)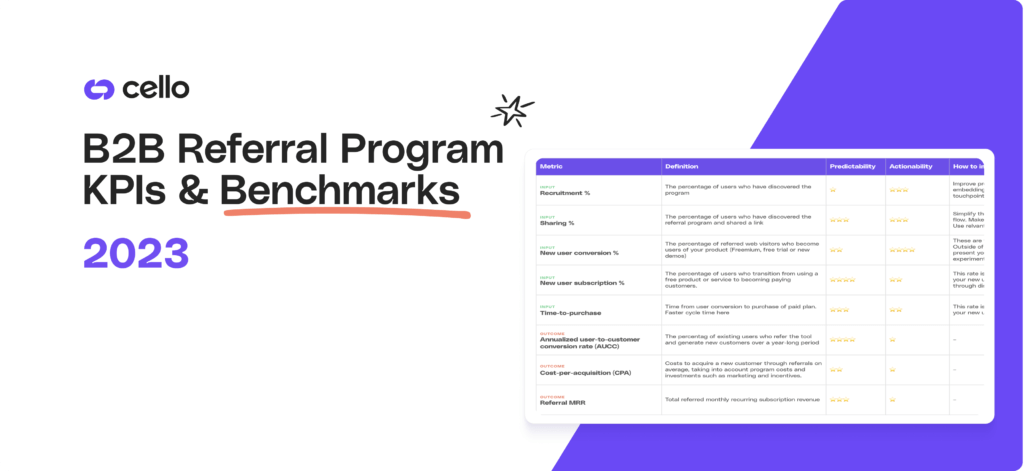 In the recent comprehensive Guide to B2B referrals with Kyle Poyar, we laid out the blueprint for launching successful B2B referral programs. In this article, we will go deeper into what are relevant B2B referral program KPIs and benchmarks how user referrals compare to other marketing channels, metrics, and benchmarks.
After reading this article, you will understand the impact best-in-class B2B companies are making with user referrals. What are the relevant input and outcome metrics to measure? What are good benchmarks for your existing or future user referral program?
Introduction
Reliable data is often scarce when it comes to benchmarking and comparing referral programs to other acquisition channels. In-depth data for B2B referral program KPIs, especially in the B2B SaaS industry, is lacking.

At the same time, many companies are leaving money on the table by not realising the full potential user referrals could have for their acquisition strategy. Making informed decisions requires the right metrics and reliable benchmarks to understand what's possible.

We already compared different programs, pointed to potential shortcomings, and also laid out best practices resulting in positive ROIs from the start. Our mission is to provide the most reliable data and resources on B2B referral programs. With that, let's dive in.

How do B2B referral programs compare to other marketing channels?
Reliable data is often scarce when it comes to benchmarking and comparing referral programs to other acquisition channels. At Cello, we've worked with and analysed 100+ B2B referral program KPIs that we can now compare against traditional marketing channels.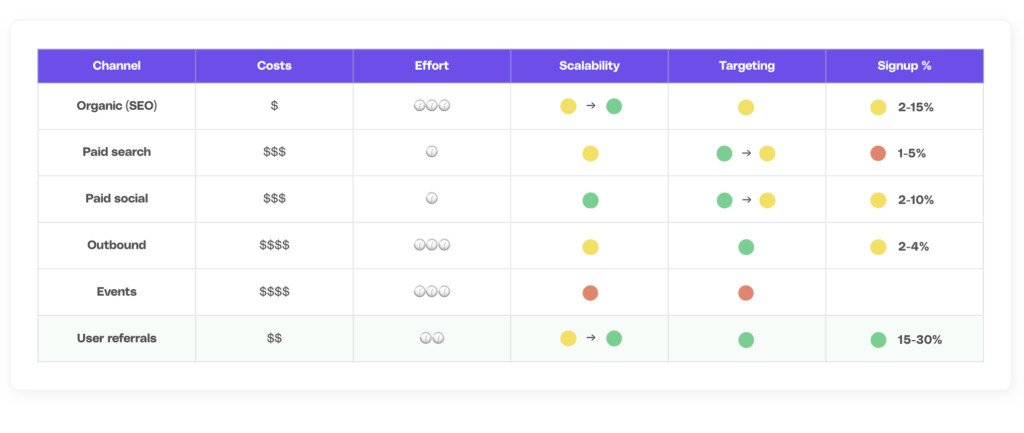 Setup time
Launching a high-performing program doesn't need to take long. Programs no longer need to be self-built as out-of-the-box solutions exist for going from idea to product quickly. tl;dv, an AI-powered meeting recorder, integrated and launched its user referrals within a few days, growing the channel to a sustained 550 monthly high-quality sign-ups soon after.

Cost to run
Referrals are usually perceived as costly as you are usually incentivizing both users who refer others and invited users, usually through discounts. Improper incentivization structure is the leading cause. By tying user rewards to the recurring revenue generated by their invited users, you can maintain a consistently favorable LTV/CAC ratio and offer appealing rewards to users. You can read more on rewards in this guide.

Scaling
Referral programs are sometimes seen as one-off campaigns instead of what they can be: highly scalable acquisition channels. The key to scaling is to build user habits around referring other users. This can be achieved by turning referrers into brand advocates who get rewarded for their ongoing influence over a longer period of time. Higher ACV of B2B products allows for spreading rewards across a long period as a percentage of monthly subscription payments, creating a powerful reminder to share with more users.
Targeting
Targeting in paid advertising isn't what it used to be. With Apple cracking down on user advertising IDs and Google having similar plans, campaigns are becoming less effective due to worse targeting options. This privacy push is forcing marketers to increase budgets to get the same results as before. User referrals have built-in targeting due to the fact that you have experienced users of your app inviting others they know will be a good fit for the tool.
Conversion %
User referrals have very high signup or book-a-demo rates, and when you pair this with the high quality of these new users, the conversion rate to paid plans is far beyond other marketing channels. Personal and private payouts generate more engagement than in-product rewards, leading to higher conversion rates.

Despite these benefits, user referrals remain underutilized due to both a lack of knowledge and the development effort involved to build it in-house. Many who try fail to make referrals work as part of their growth strategy. Much of this can also be attributed to tracking the wrong metrics.
What are the right B2B referral program KPIs to track?
Introducing a fresh growth channel to your go-to-market strategy requires solid groundwork. For user referrals, selecting the appropriate metrics grounded in accurate data is very important. Like any marketing channel, you need to test and learn your way to make referrals perform well.
Input metrics
These "on the ground" metrics are actionable, and you should look at them to understand how you can improve your program performance. They should point to specific actions to optimize the overall performance. The best input metrics are predictive of later outcomes.
Outcome metrics
These metrics are linked to the long-term value the referral program generates. They directly link to your annual recurring revenue (ARR) referral to predict future growth. These metrics are a composite of various metrics.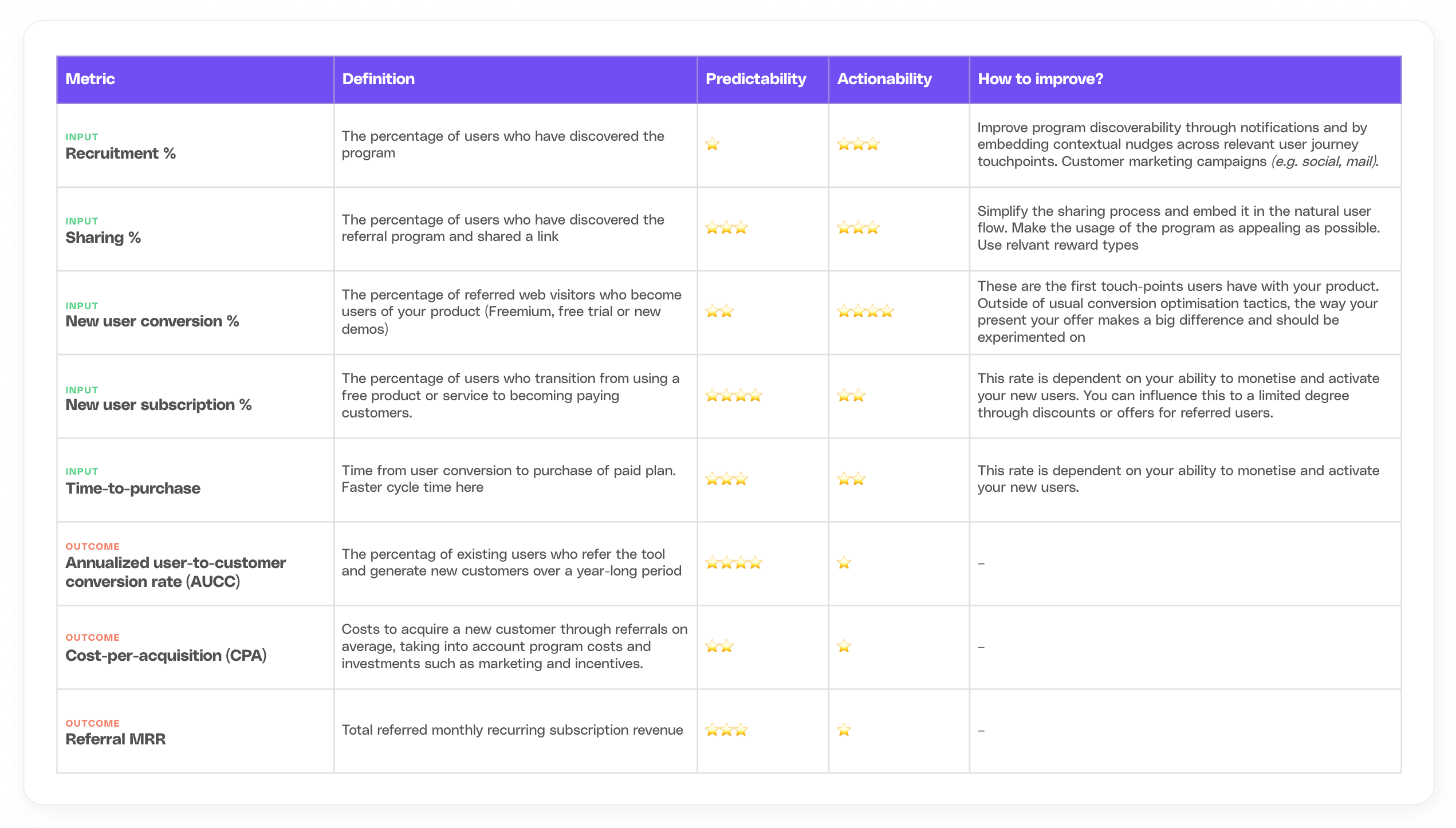 Input metrics
Recruitment rate
Measures how well you can help existing users discover your referral program through various marketing tactics. It is the prerequisite for users to interact with the program and share referral links. Best programs are easily accessible alongside the features your users use and love.

How to improve referral recruitment rate
To improve discoverability, it should be accessible across a range of touchpoints. Users need to be reminded frequently that a program exists. Embed welcome notifications and a FAQ on your platform to guide new users and provide them with a smooth onboarding experience. You can also embed a well-placed link to a referral program page on your website to inform them. Running activation campaigns, such as social media or email campaigns, can help increase engagement and attract a larger audience. Additionally, embedding programs at various touchpoints and enabling contextual sharing, especially during proud user moments or when receiving high Net Promoter Scores (NPS>8), can further boost discoverability.
Sharing rate
A measure of how well your program is in turning interest into action. The main level you can use to influence this KPI is the overall incentive structure and how it's presented to users. Hassle-free referring, without unnecessary application processes or waiting periods, will enhance program discoverability and reduce friction in participation.

How to improve sharing rate
To enhance user experience, simplify and seamlessly integrate the sharing process into the natural user flow. From just opening the program, it should be crystal clear what the referrer can get out of the program and how much effort it will take to use it. Private payouts tend to have a higher engagement rate on referrers; the higher the incentive, the higher the likelihood of referrers making some effort in sharing (s. study). It also depends on how you communicate the reward level (e.g., Share & earn up to 1000€ is more compelling than earning 10€ per qualified sign-up).
Provide multiple sharing options (e.g., social and mobile) and pre-written copies to simplify the sharing experience.
New user conversion rate
New user conversion rate measures the percentage of referred visitors who became freemium or free trial users (or, in the sales-led model, demos). This indicates how well the value proposition and referral offering have been perceived by the referee.

Improving new user conversion rate
The referee should quickly grasp your product's value proposition and understand the benefits of joining the referral program. Create a landing page featuring a product shot, highlight your USPs, and showcase the applicable discount and referrer details. Ideally, the referee should be able to effortlessly sign up for a free trial to get started and experience the product firsthand. Of course, the approach may vary depending on your product's nature. If your product relies heavily on sales, consider linking to a demo booking page and providing a concise product video. If your tool is self-explanatory, opt for a straightforward sign-up process.
Purchase rate
Purchase rate measures the percentage of referred users transitioning from using a free product, or after having a demo, to becoming paying customers. It quantifies the effectiveness of converting free users into revenue-generating customers.

How to improve purchase rate
This metric can be positively influenced by referral program-specific actions (e.g., referral discounts, in and outside product reminders that the user originated from a referral, and reminders to referrers to notify referees). If you are not monetizing your product and are optimizing for purely acquisition volume, you should consider rewarding users earlier, for example, for qualified signups or demos.
Time-to-purchase
This is the time it takes from a newly invited user conversion (demo, freemium signup…) to becoming a paid customer. The faster your monetization speed, the higher the likelihood of more referrals and network effects. The faster your users get their first recurring payouts, the higher the likelihood they will refer more.
How to improve time-to-purchase
This metric is a solid indicator of how efficiently your referral program is set up. The faster the time-to-conversion, the better the overall program design is perceived by referrers and referees. This number is heavily influenced by your overall sales cycle and product type, but keep the recommendations above in mind to reduce the overall conversion time.
Output metrics
The metrics should be predictable and actionable. To measure the overall success and predictability of the program to your future customer growth, it all boils down to the AUCC (annualized user-to-customer conversion). This is the metric to measure the sustained success of user referrals as a channel.
Annualized user-to-customer conversion (AUCC)
The annualized user-to-customer conversion (AUCC) refers to the percentage of existing users who use the referral program and convert new users into customers over a year-long period. It is a measure that quantifies the percentage of users who become paying customers within a specific timeframe, typically one year.

This overarching metric should be at the top of your metric table.
Even though the predictability of the AUCC is relatively high, it does not give you actionable insights on improving this metric. Therefore we should have a look at the funnel holistically.
What are good B2B referral program benchmarks?
This article will be followed by the first-ever crowdsourced set of referral program benchmarks for B2B SaaS. Follow us on LinkedIn to learn when this gets published.
The table below shows a first glimpse of B2B SaaS referral benchmark figures derived from 400k referral users on the Cello platform during H1 of 2023, which focuses on the to-go-market motion in particular.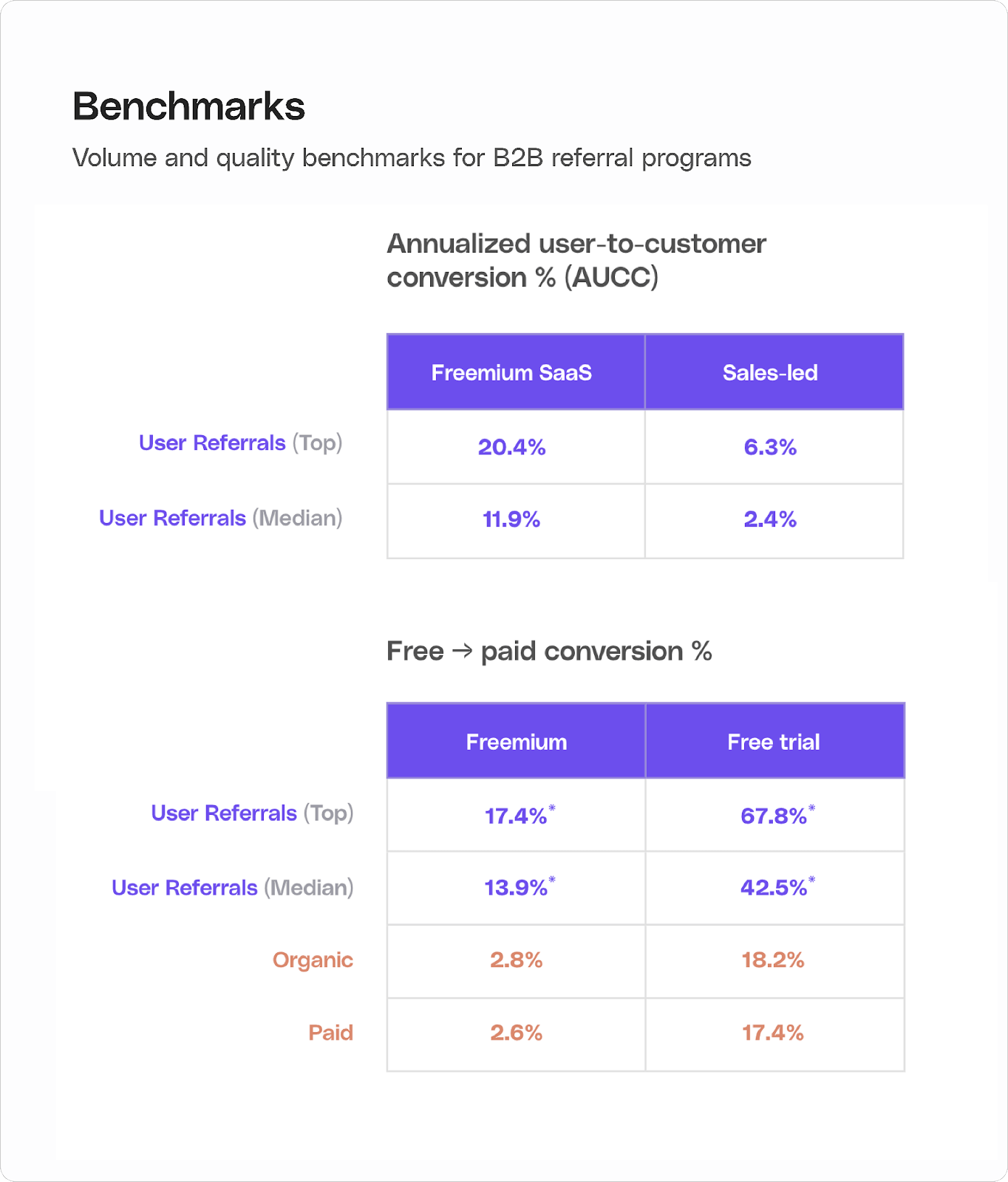 The metrics demonstrate the impact of a well-designed referral program for B2B companies. The numbers are centered around B2B Freemium, B2B free trial, and B2B sales-led.
Annualized user-to-customer conversion rate (AUCC)
We can see a conversion rate of up to 20% for freemium products and 6% for sales-led products in the top tier. The difference can be explained by the nature of the product. Sales-led products are more complex and need more explanations leading to a longer sales cycle. They tend to address more significant customers, with more stakeholders involved and requirements.
Purchase rate (Freemium and free trial)
We can see a conversion rate of up to 17% for freemium products and 67% for top-of-class free trial products. The variation may be attributed to the inclination of users to make a purchase. Those who initiate a free trial demonstrate a greater level of intent to buy and usually also receive assistance from the sales team. Compared to different marketing channels (e.g., organic, paid), the conversion rate is significantly higher.
What next?
We're gearing up to launch a comprehensive analytics dashboard in Cello that allows you to track and take action based on the referral program metrics that matter. Stay tuned.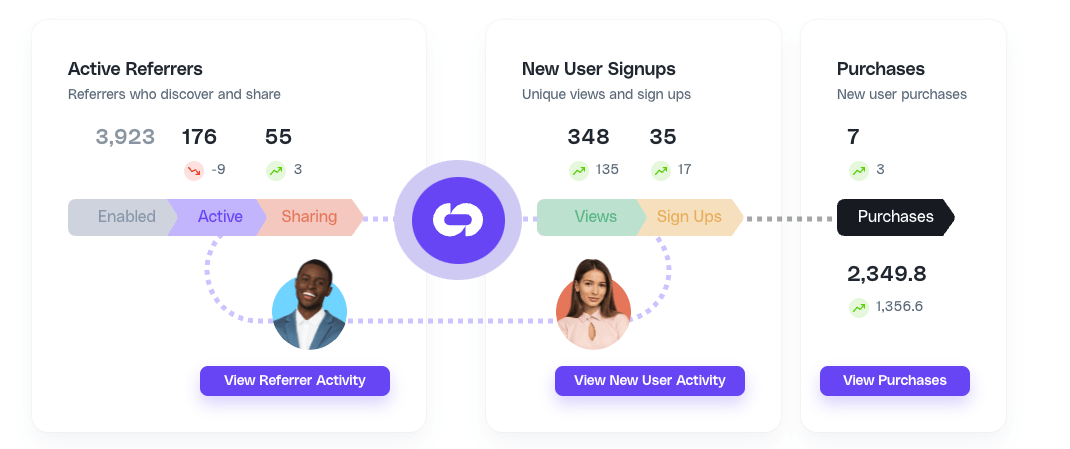 Meanwhile, you can have a look at our tear-down of B2B referral programs or our comprehensive guide for launching a B2B referral program.